Complete Guide to the Drive by Truckers
Brighter Than Creations Dark, 2008
Every time I feel like I'm on the verge of figuring out what Mike Cooley's excellent song, "Ghost to Most" means, it slips out of my fingers again. The mysterious, wisecracking Cooley is indeed the escape artist here, as he sings about human identity (I guess), attempts to squash it (maybe), how the search for the truth underneath that may be more obvious than we think (possibly),
and that we should probably figure all this out before we turn into skeletons (sorta).
3. "Outfit"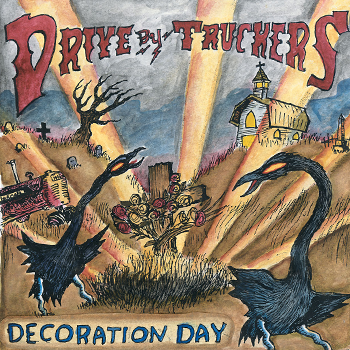 Decoration Day, 2003
It's astounding that DBT's resident youngster Jason Isbell had the capacity to write a song like "Outfit" while in his early 20s. The song, which takes the form of an advice letter from father to son, is littered with references to working as a painter, the Beatles, family, air conditioning repair, tech school, mustangs, and heroin-all delivered through Isbell's rolling vocals and melodic guitar work. Moral territory is firmly established, defended, and canonized in this fine song.